Comfy Calming Dog/Cat Bed
Pamper your pet with our self-warming and the soothing bed that is finished with a luxurious faux shag fur and mimics the cozy comfort of a mother's fur coat! Paired with deep crevices that allow your pet to burrow, your fury kids will have full, restful sleep for improved behavior and better health.
SIZE CHART
When choosing your pet's bed, we would recommend the Small and Medium for cats or small dog breeds up to 17.6lbs. The Large bed is suitable for dog breeds up to 28.7lbs. The Extra Large bed is suitable for dog breeds up to 55.1lbs. The 2XL bed is suitable for dog breeds up to 77.1lbs. The 3XL bed is suitable for dog breeds up to 110.2lbs. The 4XL is perfect for breeds up to 121.2lbs. The 5XL is perfect for breeds up to 132.2lbs.
All dimensions are measured manually with a deviation of 1-2 inch(2 to 5cm).
Eases Anxiety – Our Soothing Bed can help relax and ground your fur kids. Our bed is an inspiration from an age-old concept that is practiced by therapists to help ease anxiety.
Extra Comfort: Ideal for pets who love to curl up! The raised rim creates a sense of security and provides head and neck support, while the super-soft filling offers joint and muscle pain relief.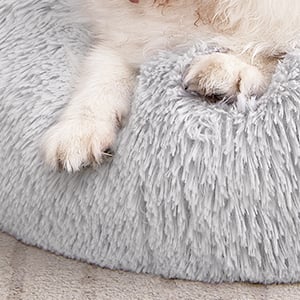 Versatile Design: Available in beautifully natural colors, our pet beds are a seamless addition to any room's decor!
Pet-Safe Materials: luxurious faux fur come to create dog mattresses that are as practical as they are comfortable!
Machine Washable: For added convenience, every bed is safe in the washing machine and dryer (Machine wash, gentle cycle. Tumble dry, low heat), minimizing pet odors and excess hair.