Wish you a health, happiness, peace and prosperity new year.

Easy to Care – Artificial plant balls don't require any water, soil, fertilizers, do not need to be trimmed, are easy to maintain, and are not affected by natural weather. Let you feel nature anytime and save your time and water!
MAINTENANCE FREE – Topiary Balls can be used both indoors and outdoors to enhance the look of any space.
Eco-friendly Material – The artificial plant ball is made from high-quality material by modern technology, every stem is made of super-strong high-density PE and contains 3 layers. Look the same as the real but more long-lasting than it, perfect for both indoor and outdoor decor.
Easy to Install – This artificial plant ball is very easy to install, just fasten the buckles and the connectors of the balls. We also provide installation guidelines that help to install the round topiary ball. The ball may be compressed during shipment, you can put it in the air to recover its shape.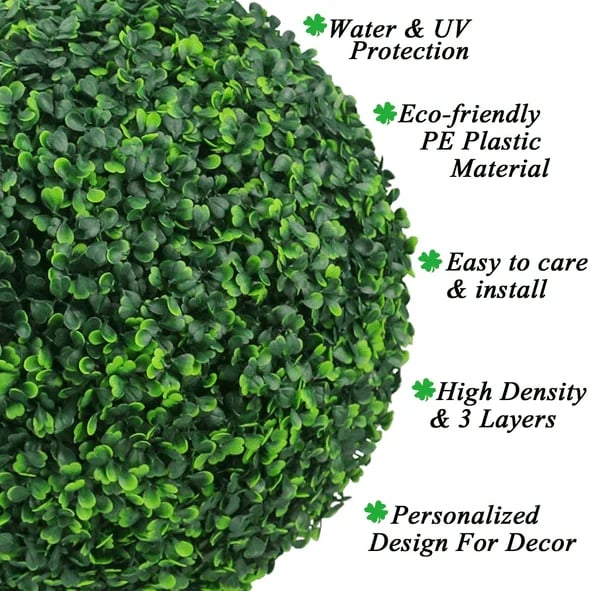 The Artificial Topiary Plant Ball is easy to care for, they don't require any maintenance, and are not affected by natural weather. durability and long-lasting, perfect for both indoor and outdoor decor.
Our artificial plant balls are made of high quality materials.It can still maintain vivid colors even in harsh environments.

Product Description
Material: High-Density PE Plastic
Type: Milan Grass , Purple Eucalyptus
Features:
UV resistant, Water resistant, No maintenance, trimming, or watering! Easy to care, Easy to install.
Customer Questions & Answers
Question: How do you keep these from blowing away outdoors?
Answer: I think my husband put some type of "clip" that stuck down in the dirt. Mine was on a covered porch but the wind does whip through there but I didn't have any problems. By Patrick Martin on Feb 10, 2022
Question: How can you keep these clean, free of dust and spider webs, when kept outside?
Answer: Dust is taken care of by rainwater and/or spraying with water. Spider webs are not a problem for me. By Shelly on Feb 18, 2022
Question: Can these stakes directly into ground landscaping or only potted?
Answer: Yes they could be staked anywhere. By SOPHIE on Feb 26, 2022
Our Customer Feedback