YOUR CLOTHES… BACK TO NEW!
Sick of stubborn lint, fuzz balls, and pet hair ruining your clothes, couches, and blankets?
No more throwing away your favorite clothes, VigorShaver will bring yourclothes, sofas, sweaters, hats, gloves, jackets, socks, and rugs BACK TO NEW.
Time to say goodbye to annoying build-up and pet hair on clothes that you were ready to throw in the garbage. VigorShaver restores old clothing to look as good as new.
VigorShaver perfectly removes fabric fluff, fuzz, pill, bobble, and lint from all types of clothes and fabrics, including sweaters, couches, blankets, curtains, socks, leggings, wool, cashmere, and so on. Just run VigorShaver across your fabric to eliminate fluff that has unavoidably accumulated over time.
– VigorShaver uses a rotating inner blade that instantly removes and collects excess lint from clothing.
– VigorShaver is Safe to touch, the fabric shaver has a guard that won't damage the fabric or your hands.
– VigorShaver is Easy to use, open it up and run it on your fabric, with just one touch you'll see all the excess fluff balls removed.
– VigorShaver sucks them into a removable compartment so you can easily clean it.
– VigorShaver will give your old clothes a new look.
– VigorShaver comes with a USB portable fast charger.

– Strong Suction: VigorShaver features a stainless steel net, making no pilling possible, and it features strong suction, which does not damage the clothes so that you can remove the lint from your clothes with one stroke.
– Premium Blade: The VigorShaver features a 3-leaf cyclone blade, fast speed, large mesh, and fast shaving. The micro-arc honeycomb steel surface protective net can effectively isolate the blades, making lint removal easy and safe
– Easy to Clean Hairballs: Simply turn VigorShaver on and run it over the desired fabric, in one simple swipe you will see all excess fluff balls removed.
– Wide Application: VigorShaver is Rechargeable, has a compact structure, easy to carry, and is suitable for travel and family use.
– Suitable for all kinds of fabrics: clothes, sweaters, cushions, blankets, socks, wool coats and can also be used in household furniture and decoration.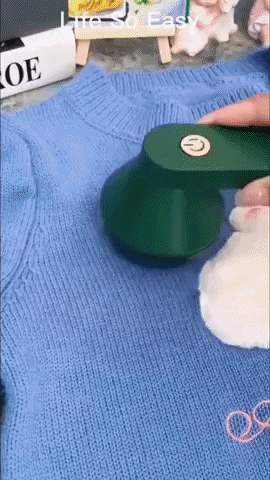 Easy to use
Easy to hold
Easy to remove
Easy to clean